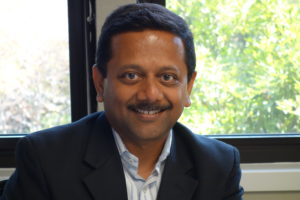 SPOTLIGHT – Sameer Gandhi, Managing Partner
As one of the Managing Partners of Amick Brown, Sameer delivers tangible business value to Amick Brown's clients by working closely with customers and partners to maximize client's investment in Enterprise systems, lowering TCO and cultivating mutually beneficial bi-directional relationships. For the past 29 years, Sameer has performed various roles in consulting companies as well as large IT organizations managing large onsite and offshore teams and building highly scalable data analytics solutions.  Sameer provides strategic services such as Analytics Assessment, Readiness, Technology Selection, Development of short term and long-term roadmap for Amick Brown customers.
Sameer is also involved in coaching and leadership support for youth in the community through the Boy Scouts of America and the national honor society called Order of the Arrow. He spent a few years as a Scoutmaster of a large troop, Troop 888 in San Ramon, CA. As a mentor for the scouts working on the rank of Eagle, the highest rank of the Boy Scouts, Sameer mentors and provides opportunities for young scouts to become responsible, participating citizens and leaders.
One of Sameer's passions is long-distance running. In the past 6 years, Sameer has successfully completed numerous local as well as international marathons. The Big Sur International Marathon and the Mumbai Marathon are his favorite marathon events. Sameer enjoys spending time outdoors. He and his friends recently climbed Mt. Whitney, the highest mountain in the lower 48 states with a height of 14,508 ft.
Sameer lives in San Ramon, CA with his wife of 23 years. He has a son who is currently in college working on his undergraduate studies.
Follow Amick Brown at: https://www.linkedin.com/company/amick-brown-llc
Connect to Sameer through  Sameers's LinkedIn Profile.  We hope to hear from you.