Contributed by Gunnar Steindorsson, Allevo US
Earlier we took a look at how effective cost planning in SAP isn't always easy – but how it can be with Allevo.
Let's take a deeper look at one challenge specifically that Allevo accomplishes with ease:  integrating data from systems or processes outside of SAP.
As you know, it's not easy to bring data into SAP from other systems – say production or sales plans – and integrate these into your planning process. Allevo's innovative Satellite Technology was designed to do just that however.
With Allevo, data integration with external systems occurs automatically and in real-time. Best of all, once your planning is complete you can save the results in SAP along with your assumptions, comments and other metadata for later retrieval and reference.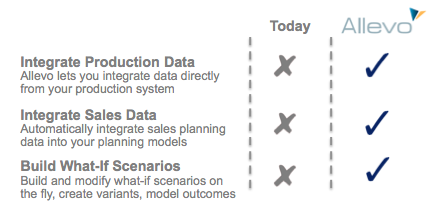 Better yet, with Allevo you work in your familiar, easy-to-use Excel environment, using your own templates, all while fully integrated with SAP.
So, if you're tired of not having real-time access to your vital planning data, frustrated by cumbersome workarounds, and annoyed with working in a system that doesn't support the way you want to work, Allevo is your solid answer.
Contact info is below.